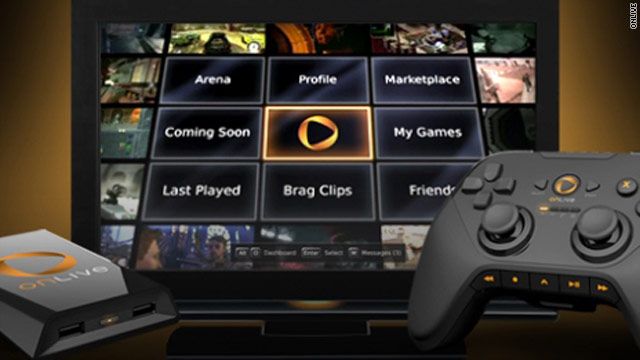 (CNN) -- OnLive, the gaming-on-demand company, introduced a new game console on Thursday it says will offer "awesome quality and state-of-the-art specs" for high-definition televisions.
The console, which is available now for pre-order and ships in early December, sells for $99.
OnLive CEO Steve Perlman says one of the "micro-console" setup's big selling points is how easy it is to install.
"Beta testers have reported going from opening the box to playing a game in under 3 minutes. I kid you not," Perlman said in a blog post Thursday. "And after that first installation, from power-on to game start is as little as 15 seconds."
Launched in the United States in June, OnLive uses acloud-computing system, meaning games are stored on remote servers and delivered online when players call them up.
Until now, players used personal computers to play the games.
The new product comes as gaming companies continue moving toward cloud computing instead of selling hard copies of individual games.
At the E3 gaming expo in June, OnLive announced it was making 23 popular console games, including "Assassin's Creed II," "Batman: Arkham Asylum" and "Mass Effect 2," available through its subscription service.
Gaikai, another cloud-based gaming service, rolled out this year and Sir Richard Branson's Virgin Gaming made a splash by entering the space as well.
Perlman also announced OnLive will be offering a flat subscription rate for users to play all the games in its library.
"This is a big day for OnLive," he said in the blog post. "It's the culmination of more than 8 years of hard work by many people, both at OnLive and at our partners, to realize a dream that so many people said was impossible."
http://www.cnn.com/2010/TECH/gaming.gad ... index.html