What you need for this is one of those *things* (I can't remember what they're called) that are like a cross between a magnifying glass and a sheet of paper...usually if you've got an older person in the family that can't see real well, chances are fairly good they'll have one of these. 'Cuz I was out of town over the weekend, and a law firm just gave the "all clear" for my mom and her brother/my uncle to do whatever it is that they want with my grandparents' farm, once grandpa passed on in December. So we were there over the weekend and were told whatever we wanted we could just take. So I snagged one of these I just happened to see lying around...hadn't done this in over 20 years with my Vectrex, since I swiped one of them from my dad back in the day!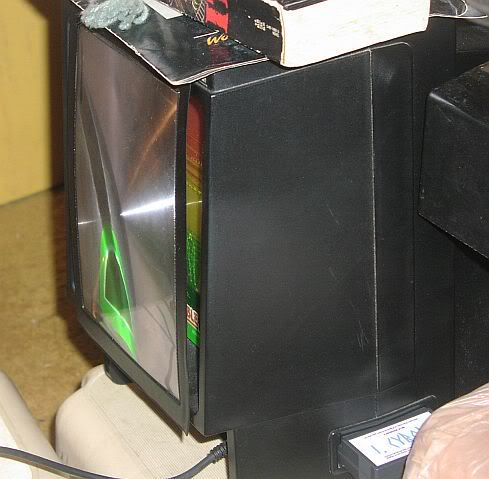 I couldn't really get a good shot showing how the screen looks "bigger" on a game though, the camera couldn't really tell the difference. I can guarantee you that it looked...eh...maybe 15% bigger though? And you might have to mess around with it a bit to get it the way you want it: when I first did this years and years ago, I had to tape a couple of clothespins onto the bottom part of the Vectrex monitor to push the bottom of the magnifying sheet out a little so the effect would work;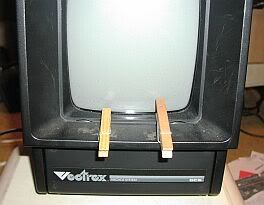 meanwhile just leaving the sheet flush against the monitor wouldn't change how it looked at all. However, with this new one, doing just that magnifies the screen.
I've tried it out with I, Cyborg so far; man, that big cyborg looks REALLY big now! There isn't much of a change with Space Frenzy/Super Spike World demo, but THE biggest noticable change is with Spike Hoppin' when you clear a screen and it starts flashing, it has this 'prism' effect that's totally nuts! (If this were a commercial release today, it'd definitely give a warning NOT to use one of these magnifying sheets if you're prone to having seizures!) However, Protector you can NOT use this with, you can't have a lightning-fast game of Defender with a kind of "trippy" effect going on, you need to see everything on your scanner possible. So some things just don't work.
More games when I get to them!